Last week at art I didn't even touch my painting. We critiqued it and people made some suggestions and then I went away and thought about it for a week ...


So, instead of working on my painting, I did this.

We all went out into the garden ( did I tell you that some friends come with us now ? ) and picked things that we thought represented us. I won't explain why I picked the things I did but you can see them there on the table ...

We used oil pastels and were told not to think. That is what we've been working on for weeks. Not a skill I would ever have thought you'd use in painting. BUT it is a big part of the process. I must admit, it's not a skill I enjoy learning !!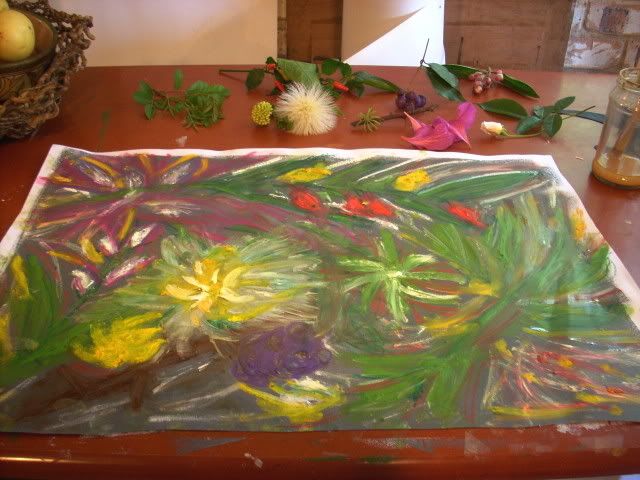 But this was quite fun. I just grabbed color after color and added bits here, there. More on top of this one ... more over there. Smudge a bit. Rub a bit. Add the linseed oil ... It was fun. Karry had some really upbeat classical music playing pretty loud and all three of us adults just went nuts with the pastels ! :)

The girls had long since finished their pieces and were out playing.

Here's how my finished piece looks ...


And here's the updated shot of my painting. Can you see what's different to
last time
??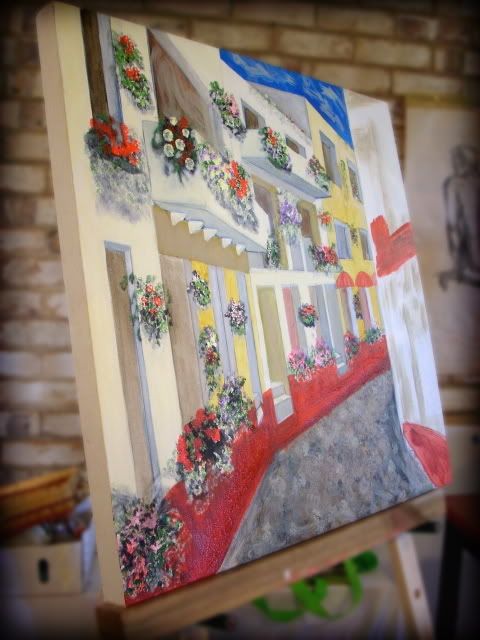 Yep ... I decided I would add color to the walls and also add another building. We just roughly mapped in the new building this week. I think it looks much better. Or, I guess I should say that I can see that it will look much better when it's actually finished. I was getting a bit frustrated with it ...

Karry has got the most amazing tree in her yard. I took a whole heap of photos ... I'll be posting some more soon but I want to play with them in GIMP a bit first. I don't know what kind of three this is but I'm guessing it is in the same family as the bottle brush ... (the pink ones I posted earlier in the week are bottle brushes)